Planning a funeral or memorial service
Planning a funeral or memorial service for your child may feel like an impossible task. It may also feel like an important thing you can do for your child in this time of loss. 
Ideas to help your planning
A funeral or memorial service offers a way to remember your child with your family and community. This memorial may help you find support for your grief with others who care. Here are some ideas to help with your planning: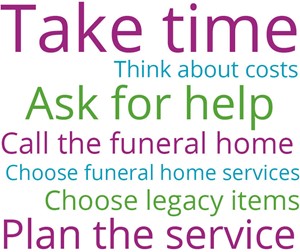 Some parents plan a funeral or memorial service before their child dies. Others wait until after the death happens. You can take the time you need to plan, unless you have religious or family reasons to plan quickly. Whether you plan in advance, or after the death, the first thing that most families will have to do is choose a funeral home. The advantage of choosing one before your child dies, is that you will have the opportunity to choose one that best fits your family's needs without feeling rushed. 
Many parents don't even know where to begin when it comes to planning a funeral. Generally speaking, there are 3 common ways that most families start to look into things:
Some parents will begin by reaching out to a funeral home where they experienced a memorable service following the death of a relative or friend, or to one that is simply located nearby to their family home;
In some families, funeral planning and after death care is the responsibility of a senior relative, like your child's grandparent or uncle; or
Guidance is provided by a religious or spiritual leader or community. 
"My husband and I both felt really pulled to different projects to create personal experience for the funeral. I knit a dress we would bury her in and my husband decided to build the casket himself. He went to the hardware store and picked out a really pretty exotic wood for our baby's casket. I really cherish some of those things now, pouring that love into something tangible. It was a very healing part of all of it. It felt soothing." – Esther, mother of Elianna and Eli-Grace
Even simple funerals are expensive. Funeral homes charge a basic fee that covers the work common to all funerals, including care of the body, doing legal paperwork, and coordinating arrangements with religious institutions, cemeteries or crematoriums. You will also have an opportunity to make other choices about urns, caskets or using the funeral home for a service or reception. For many families, these expenses can feel overwhelming. 
If you need help paying for the cost of a funeral or memorial service, there are people who can help:
Hospital social worker and/or regional pediatric palliative care team: Your child's social worker and/or the hospital's grief support staff can help you find a funeral home. They can also help you find out if you qualify for any funding from government sources or from charities.  
Government assistance case workers: If you receive income from government assistance, call your local case worker. Some plans pay for basic funeral expenses. Ask your worker if you qualify, and what services they will fund. Tell the funeral director if you are looking for this kind of support before you start making plans. Do not make any firm decisions or sign any contracts until you have a clear understanding of what exactly will be covered. 
Funeral home professional: Talk to the funeral home about the different services they offer and what each one costs. For example, cremation is generally  a few thousand dollars less expensive than burial. Some homes offer "compassionate pricing" for a child's funeral. Some offer payment plans that allow you to pay over time.
Friends and family: Some families receive financial contributions from friends and family after a child dies to help pay for funerals and other expenses. 
If your child dies in the hospital or hospice, the staff can help you call the funeral home of your choice and make arrangements for the body to be picked up. If your child dies at home, it is typically your responsibility to call the funeral home. First, a medical professional will confirm your child's death. After that, when you are ready, call the funeral home. They will take your child's body to their facility. The process for this is dependent upon where you live. Speak with your healthcare providers for specific guidance.
Choosing funeral home services
Meet with the funeral home director to discuss the services you wish to buy from them and how much they cost. Decide whether you want your child to be buried or cremated and if and when you wish to have a service. If there is something you want to do, like be involved in dressing your child's body, or put special items in a casket with your child, tell the funeral home director. If you wish, you will be able to see your child again at the funeral home in a private, comfortable space. 
Funeral homes offer many extra items for sale. Some of these are practical, like caskets or urns. Some are things that help you honour your child like gravemarkers, jewellery, and artwork. You can buy legacy items that preserve your child's fingerprints, handprints, or cremation ash in jewellery, tattoo inks or other items. 
Funeral services or memorials can be held at the funeral home, in a religious building, or another place that your family chooses. You may hold a service soon after your child dies, or you may choose to bury or cremate the body and hold a memorial service later.  The funeral home will help you coordinate those arrangements. Talk with the funeral director or your religious leader about your wishes for music, readings, and other special touches such as including your child's favourite items or colours. 
Visitations, funerals, memorials, celebrations of life, and faith-based services are all rituals designed to honour a cherished life and to bring people together. Whatever they are called, funerals are rituals that can help you:
Acknowledge the reality of the death
Feel the pain of the loss
Remember the person who died
Mark the beginning of your life without your child
Search for meaning in what happened
Receive support from others
In many traditions, you will be encouraged to personalize the funeral or memorial service to honour your child. If your child is interested and able to talk about their own funeral, you might make plans together. You might:
Choose music or readings that your child would enjoy
Ask special people like friends, teachers, relatives, coaches, or teammates to take part
Make a display of personal items like toys, photos, sports equipment, or other special objects
Create a program for the service or ceremony with photos, poems or something your child created
Show a videotape or slide show of your child's life during the service
Invite guests to share their own memories in a guestbook or by writing notes or drawing pictures
Host a reception afterward, and serve food that your child liked
It may feel too sad or too overwhelming to plan your child's funeral. This is perfectly normal. If you find a way to mourn and honour the unique life of your child, you may find comfort in the memory of this celebration of your child's life. 
Resources 
Videos
Tait planned two celebrations of his life--one for before he died and one for after he died
It took us time to bury Kalyana's ashes
Helping families understand funeral and burial options
A more expensive funeral may not be better
Honouring a child's life in special ways
Plans and preparations before Jay's death